STUDENT ADVISORY PROGRAM
~  T'nT  or 'Trojan Time'
All Regina Public High Schools have a student advisory program in place. Educational research and practice overwhelmingly demonstrates that when an advisory program is in place students do better at school. While in advisory, students and their advisor will work together to:
Develop a greater sense of belonging

Regularly monitor attendance and academic progress and communicate with students and parents

Develop an online portfolio for career and planning and to track academic progress

Enjoy a smoother transition to high school and from high school to post-secondary education and work

Acquire life skills that will be applied now and in the future.
Teachers at École Thom Collegiate will act as an Advisor to a small group of students in a specific grade. This year, students will not be meeting with TnT teachers in person during an advisory period.  They will meet with their teacher advisor as needed.  TnT teachers will maintain contact with students and parents through phone, email, or using a Google Classroom and will communicate regarding student programing, attendance, school news.  The Advisory teacher is a sustained contact point and conduit of information for parents.
AP (Advanced Placement)
Advanced Placement (AP) is an international enrichment program.  Through the Advanced Placement's courses and exams, high school students can earn university credit and advanced placement, stand out in admissions process and, more importantly, follow their passion in one or more AP subjects.  AP operates on an open access policy meaning that any student can try an Advanced Placement course.  AP can be a diploma program.  Students in Advanced Placement study the regular Saskatchewan curricula with a focus on a more enriched academic program.  AP is all about creating a university-ready culture.
GUIDANCE
The guidance department offers a variety of services to students, teachers and parents.  These services include:
individual counseling aimed at meeting the educational, personal, social and career planning needs of students

referral to various outside agencies as needed

current information on post-secondary programs as well as vocational materials

financial assistance by way of scholarship and bursary information as well as various loan and grant information.
A counsellor is available every period of the day for personal, vocational, and educational counselling. The centre is open from 8:00 a.m. to 4:00 p.m.  You are encouraged to drop in to look through the career and self-help materials on display, to use the computer career program, or to talk to a counsellor.  Please see us if you are having personal or academic problems, or to talk about subject selection and career planning.  Parents are also welcome to call a counsellor at 523-3600 regarding any concerns they may have.
Regina Public Schools strives to provide students and families with an accurate and current list of available community resources. These organizations are not affiliated directly with Regina Public Schools and are meant to be used in the interim until you are able to talk with a guidance counsellor. Regina Public Schools assumes no responsibility for the operation of these outside agencies.
Community Supports:
Please click on the following link to view our current list: Counsellor Resource List
INDIGENOUS ADVOCATE
The Indigenous Advocacy program supports and enhances the high school experience of First Nations, Metis and Inuit students through academic advising, tutorial support, and post-secondary planning.
LEARNING RESOURCE
The Learning Resource Program is for students who have been identified as having learning difficulties. A variety of service options are available and range from supporting teachers in making adaptations, monitoring students' progress, providing consultative services.
ENGLISH AS AN ADDITIONAL LANGUAGE (EAL)
The EAL Resource Teacher supports students with language learning.  EAL students are provided sheltered literacy classes and tutorials.  Students who do not yet have the necessary English literacy skills to be successful in the academic program may receive sheltered literacy classes.  Once students have acquired the necessary English literacy skills, they are integrated into the regular academic program with tutorial support.
DRUG AND ALCOHOL COUNSELLING
The Regina Qu'Appelle Health District drug and alcohol counselor is available to support students and family.  Please contact the Guidance Office.
RESOURCE OFFICER
You are welcome to visit our Resource Officer located on the main floor of Thom Collegiate. The Resource Officer is here to assist students with concerns and problems, as well as help them understand the role of a police officer and the individual's responsibility to the community, the law, and its enforcement.
JOHN DAVIES RESOURCE CENTRE
The library houses a variety of research and recreational materials. Due to COVID, the library will be closed as a learning space, but will remain open for students to sign out resources and to access laptops as a class.  Books may be borrowed for two weeks.  A booking system is in place for teachers to arrange to use a computer lab or the laptop cart.  Labs and carts will be disinfected after every use.   Internet access and on-line databases are available on all computers. 
HAWRYLAK AUDITORIUM
The auditorium is a special place in our school in which students are expected to conduct themselves with dignity. Courtesy for the performers and consideration for the other members of the audience are key words governing expected conduct.
CANTEEN / LUNCH HOUR
To reduce the number of students in the building, students are strongly encouraged to go home over the lunch hour.  Students who must remain at school for lunch, are encouraged to eat their lunch in the Student Commons Area.  Staff members are assigned to supervise.  Students staying for lunch should practice physical distancing. 
For health reasons our school canteen will not be available until further notice.  No microwaves will be available, but vending machines are and will be cleaned regularly.  Please note that water fountains will be turned off. Thom Collegiate has a limited number of water bottle filling stations for student and staff use. Students should bring a filled water bottle from home each day.    
THE THOM STORE  - TROJAN TERRITORY
Trojan Territory is located in the foyer of the school, directly across from the elevator.  It is stocked with t-shirts,  sweatshirts, performance shirts, golf shirts, tank tops, as well as hats and water bottles. New items are being added periodically throughout the year.
PARENT PORTAL
Parents are able to access information about their student through our online parent portal.  This allows parents to see attendance, grades and assignments, teacher comments, next year class requests and the school daily bulletin.  Due to the confidential nature of the information parents are required to pick up the access code information in person from the office. We encourage you to join us online!
Click below for more information in our Student Handbook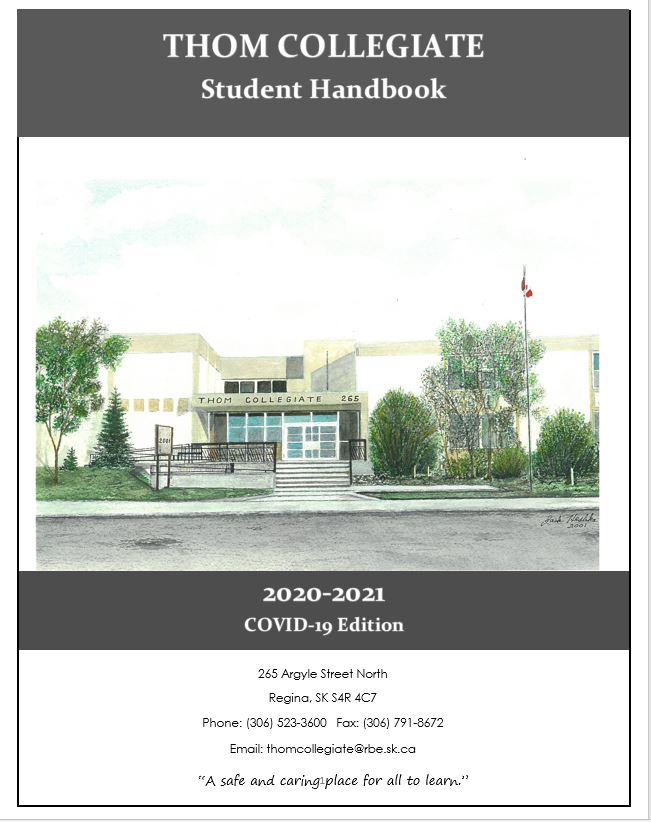 ​