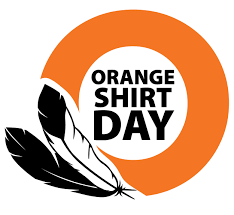 September 30 has been proclaimed by the Government of Canada as the National Day for Truth and Reconciliation. This recognition of the work of the Truth and Reconciliation Commission and formal acknowledgement and creation of a recognized day to honour First Nations, Métis and Inuit peoples is another step in the reconciliation process and in honouring of Treaties.
The Government of Saskatchewan has proclaimed September 30 as Orange Shirt Day. Education is governed provincially and in Treaty 4 territory, Regina Public Schools will be open for learning on September 30th. As in previous years, this day will be used to recognize, teach and learn about the terrible, multigenerational legacy created by residential schools across the country and in Saskatchewan. This year, these lessons are made even more poignant by the discovery of what Elders and Knowledge Keepers have known for decades – the presence of thousands of unmarked graves of children who were never allowed to return home to their families.
On September 30th we celebrated the National Day for Truth and Reco

nciliation at École Thom Collegiate.  Along with many classroom activities and learning experiences, we planned a ceremony and smudge walk that was held outside to Honour every child that attended residential schools in the past and everyone that is affected by residential schools today.  Our program included a smudge and prayer from Elder Frank, an Honour Song performed by our Thom Drum Circle, a Grass Dance performed by Alexei and two Fancy Dances performed by Joseph and Stacey.  After the dances and drum performances we went on a community walk in the Thom neighborhood to represent truth and reconciliation in our community.  The event was well received and a very meaningful way to come together as a school community on a special day to pay tribute to every child and community impacted by residential schools.  Along with encouraging everyone to wear orange shirts, we made and offered special Orange Shirt pins, and orange buttons and ribbons thanks to Ms. Powers' grade 10 Sewing class.  The day was a success and we are proud of everyone at Thom for their participation and commitment to truth and reconciliation on September 30th and moving forward.
This year, as part of our school division's strategic plan, we have included Wahkotowin. In Cree, wahkotowin describes the interconnectedness of relationships, communities and natural systems. This is but one focus we will have to further make Indigenous education a priority in our Regina Public schools, not only on September 30th, but every day.Wednesday September 30th, Orange Shirt Day, is now recognized as the National Day for Truth & Reconciliation.
Please see the link which is the recording from the First Nations University event.
Below is the agenda for the video to give you an idea of what to expect.