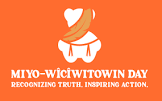 Thursday, September 29, 2022 In support of the National Day of Truth and Reconciliation and on behalf of the survivors of residential schools, we are thrilled that Thom Collegiate students will be attending Miyo-wîcîwitowin Day in Mosaic Stadium located on Treaty 4 Territory. 
As this is an outdoor event, students and staff are asked to dress appropriately for the weather. 

 

Students and staff will receive a bag which will include an orange t-shirt, a pledge card, a pin, and a bagged lunch consisting of crackers, cheese, granola bar and fruit.  Concessions will be open, but very limited. We encourage students and staff to bring their own additional food if they feel what is provided is not sufficient, food sensitivities, etc.  Students and staff are encouraged to bring their own water bottles. Special accommodations will be made for attendees with special medical needs.

 

Before we leave the school students go to TnT @ 8:30

. Attendance is taken for advisory class.  Buses will be at your school at 9:05 am to load students and will depart at 9:15am. Students should not be driving themselves. If a student has a period 1 spare they should plan on attending the school for 8:30. School this day is occurring at Mosaic Stadium. Students are not allowed to stay at the school and work and the school will be locked to students.
TRC Event Ambassadors 
Event Ambassadors will be assigned to Thom Collegiate to ensure all students have an outstanding experience at Miyo-wîcîwitowin Day.  These ambassadors will meet the busses to greet you, lead you to your seats and be a support to you throughout the event. 
 Gate Entry & Seating 
All Thom Collegiate attendees are asked to follow your TRC Ambassador and enter through GATE 1.  For the safety and security of all attendees, bag screening prior to entry will be in effect.  We encourage all students to bring only what they need and leave backpacks at school, if able. 
Upon arrival, an event ambassador assigned to your school will meet you and assist your school to your seats.  All Thom Collegiate attendees will enter through GATE 1 and be seated in sections 113 and 114.  We ask that Thom Collegiate attendees only sit in the assigned seats.  If there are any challenges with your seating, your TRC Event Ambassadors will be there to assist.  If any students requiring accessible seating are known in advance, please contact

guest-services@real1884.ca

, and your Ambassador will help ensure the appropriate # of accessible seats are held in advance.   

 
 Program Timelines 
9:15 AM Gates Open And Student Arrival Begins 
10:30 AM Programming Begins  
11:40 AM Lunch  
A complimentary bagged lunch will be provided to students.

 

Students with dietary restrictions are encouraged to bring an alternative lunch. 

 

Due to Mosaic Stadium's no re-entry policy, students will not be permitted to exit the stadium and return during the lunch break.

 
 12:10 PM Programming Resumes   
 1:30 PM Programming Ends 
End of Event/Transportation Pick-Up 
Bus pick-up will occur in the exact location as drop-off.  We ask Thom Collegiate students to remain in their seats until your Ambassador confirms that your busses are ready for loading. 

 

Students dismissed upon return to school.

 
Reconciliation is something that we all share a responsibility in engaging in and it will be a positive learning experience and community event.  This day is the first of its kind and we should all look forward to the experience and learning opportunities with this historic event.  It is important that we promote participation from our students.