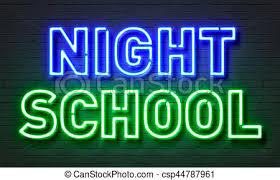 REGISTER TODAY!
Semester 1
-
(Please note the new dates) - October 5, 2020 to January 25, 2021.
Class enrollment is based on class size, therefore registration will be accepted on a first come first serve basis. 
Face masks are mandatory inside the school.
  Social distancing procedures will be followed.
Class Selection
Each course will be scheduled for two nights per week, Monday and Wednesday, from 6:15 pm to 9:30 pm.
English A30                                          
English B30                                         
Pre-Calculus 30
Foundations of Math 30       
Chemistry 30
Biology 30
Physics 30                         
All classes will be held at the Allan Blakeney Adult Campus 4210 4th Avenue.
Attendance is mandatory the first night of class.
Students are expected to attend all classes and write all exams.
Classes must have sufficient enrollment to be offered.
Doors will open at 5:30 pm.
Class space is limited and a wait list will be created once classes are full.
Classes are subject to change at anytime.
To Qualify
Students must have the necessary prerequisite course or be seeking an Adult Grade 12.  Prerequisite requirements are waived for adult students.
Adult 12 - Adult is defined as a person who is at least 18 years of age and who has been out of school for at least one year.
Effective May 1, 2019, Regina Public Schools has implemented a new practice regarding enrollment of students.  The division will no longer enroll adult students over the age of 21.  This change will directly affect Allan Blakeney Adult Campus Night School program. 
If a student turns 22 years old after they have enrolled and are attending school, they will be allowed to complete their courses.
Registration
In-person registration or email your registration to tracey.craigen@rbe.sk.ca at the Allan Blakeney Adult Campus.
Registration form is available at the bottom of this page.
Students will be required to sign an Authorization Form to permit access to their Ministry of Education transcript.
Foreign/International students studying in Canada must provide their Student Visa or Study Permit for verification by the registrar.
All students not born in Canada must provide a Permanent Resident Card or a Certificate of Canadian Citizenship at the time of registration.
Courses that do not meet enrollment requirements will be cancelled the first week.  We apologize for any inconvenience this may cause.  Students will be notified of any cancellations.
Registration Fees
No fees for students who are registered in another school, and are under 22 years of age as of September 30.
$1750.00 for International students.
Registration fees must be paid in full at the time of registration.  We accept Cash, Visa, Mastercard, and Debit.
Please speak with the registrar regarding the refund policy.
Please
click here
for the Allan Blakeney Adult Campus Night School Program registration form.