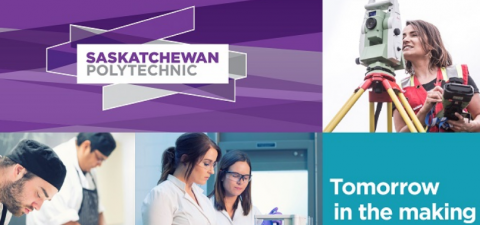 Student Recruitment Advisors are available from home via phone, email, and – now – through ZOOM Drop-in (no appointment required).
Phone 1-866-467-4278 (general line)
Moose Jaw Welcome Centre 306-691-8429
Regina Welcome Centre 306-775-7395
Saskatoon Welcome Centre 306-659-4012
Prince Albert Welcome Centre 306-765-1611
Email askaquestion@saskpolytech.ca
(NEW) Zoom Drop-Ins (Mon-Thurs, 1-3PM): https://saskpolytech.ca/events/become-a-student-advising-session.aspx
Fall Semester Information
Saskatchewan Polytechnic, in alignment with all Saskatchewan post-secondary institutions, will be providing its programs via a two-pronged approach to education delivery this fall. A combination of online/distance instruction and limited in-person learning experiences where needed, will give students the best chance of academic success in the ever-changing environment of the global pandemic.
Theory will be taught online or by distance learning.

Hands-on training that cannot be completed online, will take place on campus.
Saskatchewan Polytechnic continues to work on new processes, innovations and safety supports for our campus communities. There are still many unknowns and you may have questions about the fall semester. Our FAQs have been updated.
FAQ regarding COVID-19 & Becoming a Student.
We look forward to continuing our work together to help our future students!