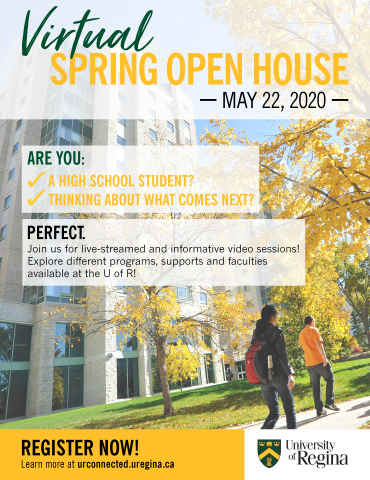 The UofR Spring Open House will take place May 22, 2020  09:00 AM  to 04:00 PM
.
You are invited to "attend" our Virtual Spring Open House on Friday, May 22, 2020. This full day of programming includes live and video sessions that will help you explore what options are available to you!
Sessions Include - Choosing or Re-evaluating Your Career Direction, Pre-Professional Programs, UR Guarantee Program, Information for Parents and Supporters, Study Abroad, Life as a Student Athlete, Faculty and Program Information, High School Accelerated Program, Virtual Tours, and much more!
Session Selection - Pick and choose what sessions you want to check out throughout the day! Some will be live-streamed where you can interact with the presenters and have your questions answered in real time. Others will be pre-recorded and you can watch them when it's convenient for you!
Let Others Know! Do you have other people in your life that are considering post-secondary studies? Parents who are asking you what your future plans are? Share this event with them - everyone is welcome to join the online sessions! We'll even have a session for parents and guardians on how they can help students plans for their future and navigate university as an option for after graduation.