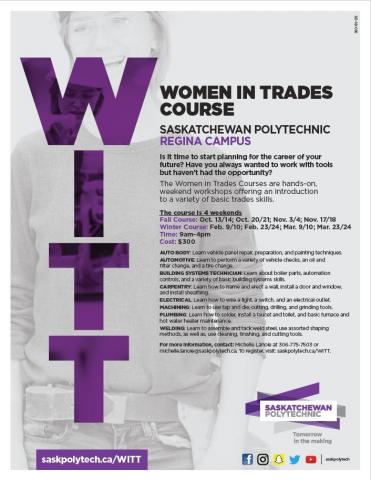 Happy New Year!  We are once again running another Women in Trades (WIT) Exploratory Course. If you know of any women that may be interested in the Trades, but are not sure where to start. In February, we will be offering a WIT Exploratory Course in Regina.
The Saskatchewan Polytechnic Women in Trades and Technology (WITT) program is offering a Women in Trades Exploratory Course from February 9 to March 24, 2019 for young women ages 15 and up!
WOMEN IN TRADES COURSE
SASKATCHEWAN POLYTECHNIC
REGINA CAMPUS
Is it time to start planning for the career of your future? Have you always wanted to work with tools but haven't had the opportunity?
The Women in Trades Courses are hands-on, weekend workshops offering an introduction to a variety of basic trades skills.
The course is 4 weekends:Feb. 9/10; Feb. 23/24; Mar. 9/10; Mar. 23/24
Time: 9am-4pm
Cost: $300
AUTO BODY: Learn vehicle panel repair, preparation, and painting techniques.
AUTOMOTIVE: Learn to perform a variety of vehicle checks, an oil and filter change, and a tire change.
BUILDING SYSTEMS TECHNICIAN: Learn about boiler parts, automation controls, and a variety of basic building systems skills.
CARPENTRY: Learn how to frame and erect a wall, install a door and window, and install sheathing.
ELECTRICAL: Learn how to wire a light, a switch, and an electrical outlet.
MACHINING: Learn to use tap and die, cutting, drilling, and grinding tools.
PLUMBING: Learn how to solder, install a faucet and toilet, and basic furnace and hot water heater maintenance.
WELDING: Learn to assemble and tack weld steel, use assorted shaping methods, as well as, use cleaning, finishing, and cutting tools.
For more information, contact: Michelle Lanoie at 306-775-7503 or michelle.lanoie@saskpolytech.ca. To register, visit: saskpolytech.ca/WITT